We Need Your Old Ritual Tools!
We are in need of many items and we sincerely hope you will consider sharing your old items that you no longer use or need with those behind the walls, who may not have any family, friends or any form of money to purchase their allowed religious items.

Tarot Cards

Talisman Bags; 2 inches by 3 inches

4 inch wooden dowels for wands

material to make talisman bags, altar cloths and protective covering for their Book of Shadows

Blank hard back books for their Book of Shadows

God and Goddess figurines for the group altars within each facility

Altar Cloths for the group which should be 3 feet by 4 feet

Wooden candle holders for the group altar

Wooden incense holders

Stick Incense

Candles of every color

Wooden Salt and Water dishes

Sabbat decorations

Bells for altar (no glass)

Candle Snuffers

Tarot Bags

Non-precious metal medalliions

2 inch altar pentacles (for private inmate possession)

Altar Pemtacles for the group(no glass)

Crystal balls for full moon healing rituals

Stones of any kind for altar and talisman bags

Chalices (no glass)

Anything else you would like to share with them and I can get in, so make sure that you consider the possiblity of them making a weapon or using it as such before sending.

I would like to thank you in advance for your caring essence and let you know that we apppreciate your gifts and they also appreciate your gifts!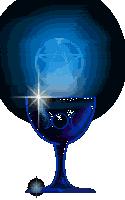 We Need Books!
We need books on every subject;
Wicca
Witchraft
History
Theological
Gods and Goddesses
Metaphysical
Auras and Chakras
Healing
Dreams
Psycological
Past Life Regression
Druidic
High Magick
Earth Magick
Norse Magick
How to Books of every subject
Beginners
Advanced
African
Egyptian
Buning Times
Astral Projection
Native
Animal Symbolism
Astrology
Moon and Sun Sign
Tarot
Runes
Divination in General
Herbs
Crystals
Stones
Please review the books you send to insure they have no nudity or recipes to make mead because the facilities will not allow inmates to have them. Thank you in advance!